Shared educational activities in New Caledonia and Australia (secondary level of education)
The relations between New Caledonia and Australia are linked within the general relations between France and Australia. But, because of the historical and geographical proximity of New Caledonia and Australia, and the growing integration of New Caledonia in the region, opportunities for shared educational opportunities between our two countries have become more frequent and more important.
Joint efforts between our two countries involve not only the twinning of schools but also interaction between educational institutions such as the French Embassy in Canberra, the Alliance françaises network, the Vice-Rectorate of New Caledonia, the Cooperative Regional Services of the New Caledonian Government, and the Department for Education and Child Development of South Australia. With their support, cultural and scientific establishments are also able to share in joint projects.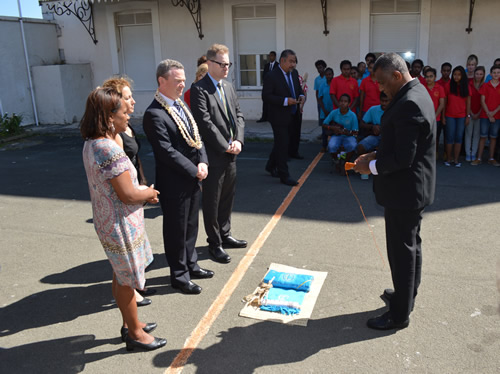 Signing of the MOU opening French-Australian International Section in New Caledonian High Schools
This Memorandum of Understanding has been reached by and between the Department of Education and Training, Government of Australia, the Ministry of National Education, Higher Education and Research of the French Republic and the Government of New Caledonia. Taking into account the agreement on cultural, scientific and technical cooperation between the Government of the French Republic and the Commonwealth of Australia and the powers assigned to the New Caledonia Government, the Participants will endeavour to encourage the creation of French-Australian International Section in New Caledonia and Australia ; to promote the recognition of these International Sections as a bilingual and bicultural curriculum, and the French Baccalaureat with the Australian International Option (OIB) conferred as part of this curriculum ;to encourage access by holders of the Australian Option of the OIB, to higher education by facilitating in particular the continuation of their studies in French and Australian higher education institutions.

Representatives of the Vice-rectorate and Balaklava High School following the MOU signed in 2011 between the vice-rectorate and the department of education of South Australia
Historical links between Australia and New Caledonia
In these neighbouring islands, the first settlements of the Aborigenes there and Kanak here, were followed by the first contacts between Europeans and Oceanians, voyages of exploration, and the experiences of both French and English colonisation in the South Seas. The populations fought as allies during the two world wars of the 20th century.
These links are enhanced today by economic exchanges (imports, exports, tourism), scientific and cultural projects, sports competitions, environmental and military cooperation. Those links have also been developed by regional cooperation within education.
In addition, the desire of government, provincial bodies and city councils of New Caledonia to link in twinning projects between communities (such as between Noumea and Gold Coast) reinforces these links.

Many of New Caledonian educational international activities take place with Australian partners and most of them in the form of close partnerships between schools.
There are several explanations for this :
French is among the foreign language taught in Australian schools (optional) and English is the first foreign language taught in New Caledonian schools (mandatory) ;
in New Caledonia, cross-curricular and linguistic projects are set throughout the school years. International activities from primary school through to the senior high years include overseas stays with schools and families. Projects cover a large range of disciplines such as sports, history, science, arts and culture … supported by the use of language skills ;
Australian schools organize cultural and linguistic stays in New Caledonia in partnership with New Caledonian schools or with the CREIPAC center specializing in French language training ;
a special link has not been developed between our two countries through vocational training. Students in vocational high schools or tertiary level studies often require a 4 to 8 weeks international experience to enhance their skills and curriculum vitae. Such courses might include hospitality and trade, but also mechanics and engineering. For more information, see "Les procédures de visa".

Pupils from Pouembout High School at Adelaide

Meeting between pupils from Jules Garnier and Telopea High Schools commemorating the centenary of the Great War.
Specific cooperative actions reinforce the links between the two countries
Australian students fly to New Caledonia as assistants to local English language teachers to share their language skills and their cultural backgrounds.
New Caledonian and South Australian teachers/leaders visit eachother in an short-term exchange program for "observation at work" (See attached document). 3 to 5 New Caledonian teachers have a 4 weeks professional stay in workshadowing to improve their english skills in their specific discipline.
The vice-rectorate of New Caledonia participates to meetings on educative and cultural issues in Australia.


Meeting of the french foreign affair network in the South Pacific (Brisbane 2014)

Meeting about the teaching of french language in Australia (French ambassy in Canberra 2014)